What is DEI?
DEI stands for diversity, equity and inclusion.

"DIVERSITY" is the presence of differences within a given setting. In the workplace, that can mean differences in race, ethnicity, gender, gender identity, sexual orientation, age and socioeconomic class.

"EQUITY" is the act of ensuring that processes and programs are impartial, fair and provide equal possible outcomes for every individual.

"INCLUSION" refers to the degree to which diverse individuals are able to participate fully in the decision making processes within an organization or group.
While a truly "inclusive" group is necessarily diverse, a "diverse" group may or may not be "inclusive."



Reference: BUILT IN, INC. Website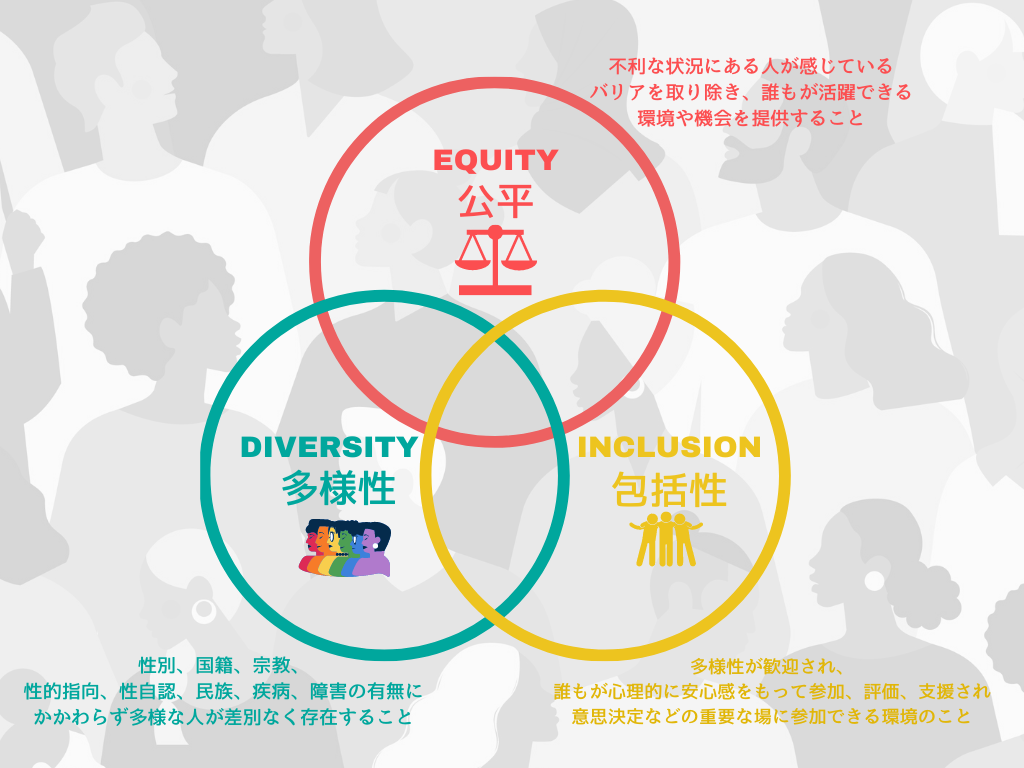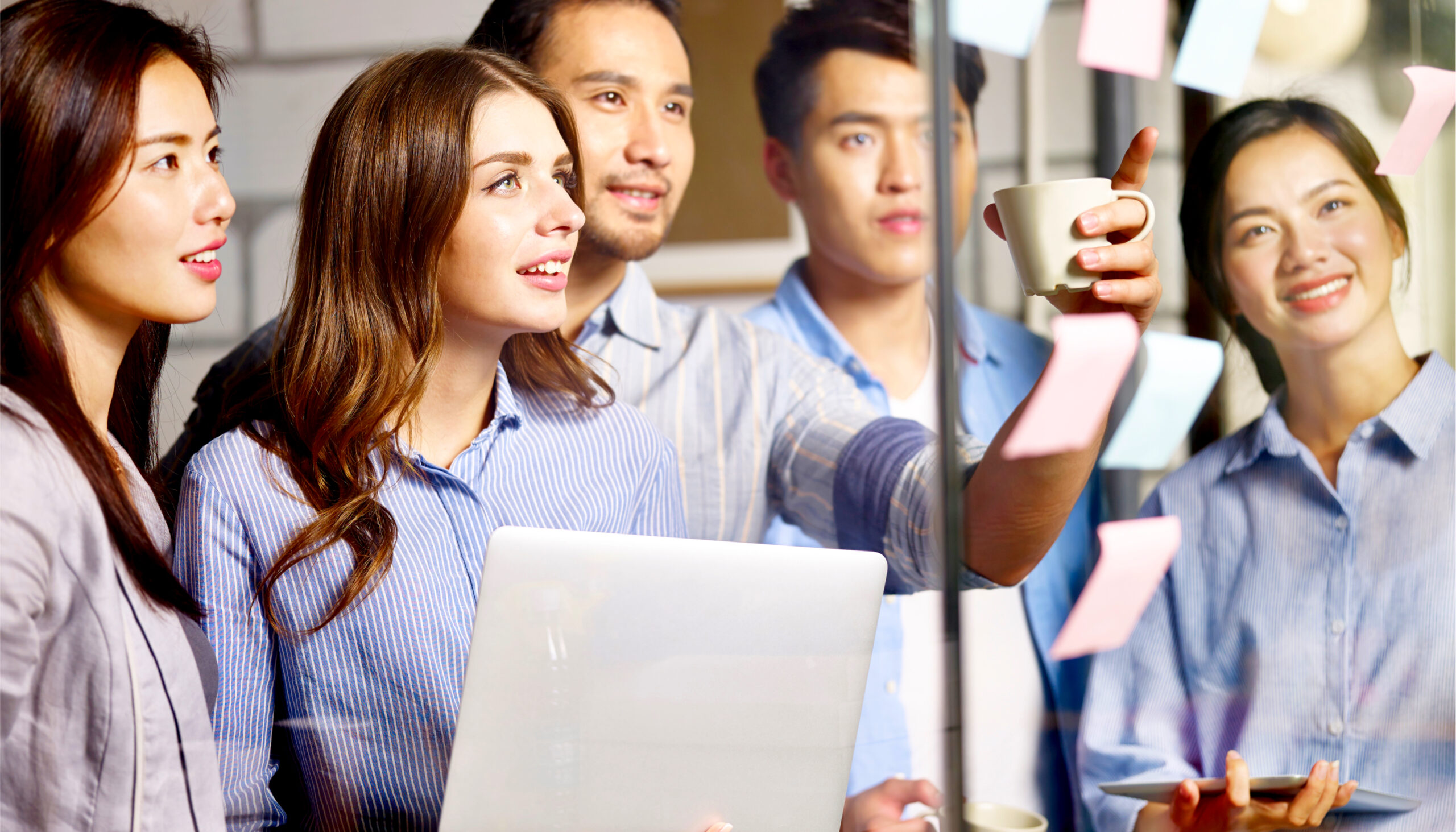 Why companies work on DEI
■Boosts Innovation Revenue
■Recruit top-class personnel
■To secure a workplace where women employee can remain
■ESG Investment
■Corporate Social Responsibility Influences Buying Decisions
■More Belief-Driven Customers
u5973u6027u5f79u54e1u6bd4u7387u306eu9ad8u3044u4f01u696du306eROE(vs 9%)
u8ceau306eu826fu3044u5224u65adu30fbu610fu601du6c7au5b9au3092u3082u305fu3089u3059
u610fu601du6c7au5b9au306bu8981u3059u308bu6642u9593 (u500du306eu901fu3055)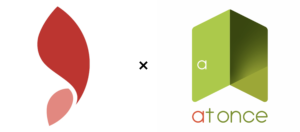 "SHeStands At Once" is not a program aimed for achieving immediate goals, but will attempt to change the mindset that causes underlying issues, while providing emotional support for employees. Analyzing corporate position and issues with a DEI assessment. Providing a custom DEI promotion program based on the company's needs through questionnaires that can understand real issues by listening to how employees feel. We will work together to upgrade the company to become a HAPPY+PRODUCTIVE+CREATIVE organization where anyone working in the company can experience well-being. In addition, we are also adopting efforts to obtain Minister of Health, Labour and Welfare certified, "Eruboshi certification" and the "Kurumin certification" and other awards.

It has been pointed out that sometimes short term and superficial efforts for DEI does not lead to solving issues, but only highlights and hurts those in marginalized groups. Therefore, there is a perspective known as BDJ (Belonging, Dignity, Justice) which was created based on a sense of Belonging and Justice, that aims to create an environment that understands and respects each individual as human. This is an idea that focuses on the internal by centering the experiences and voices of marginalized groups, such as whether each individual feels welcomed, respected, and has a sense of physical, emotional and psychological reassurance. This training program "SHeStands At Once" focuses on these individual emotional aspects and will customize the program according to company needs.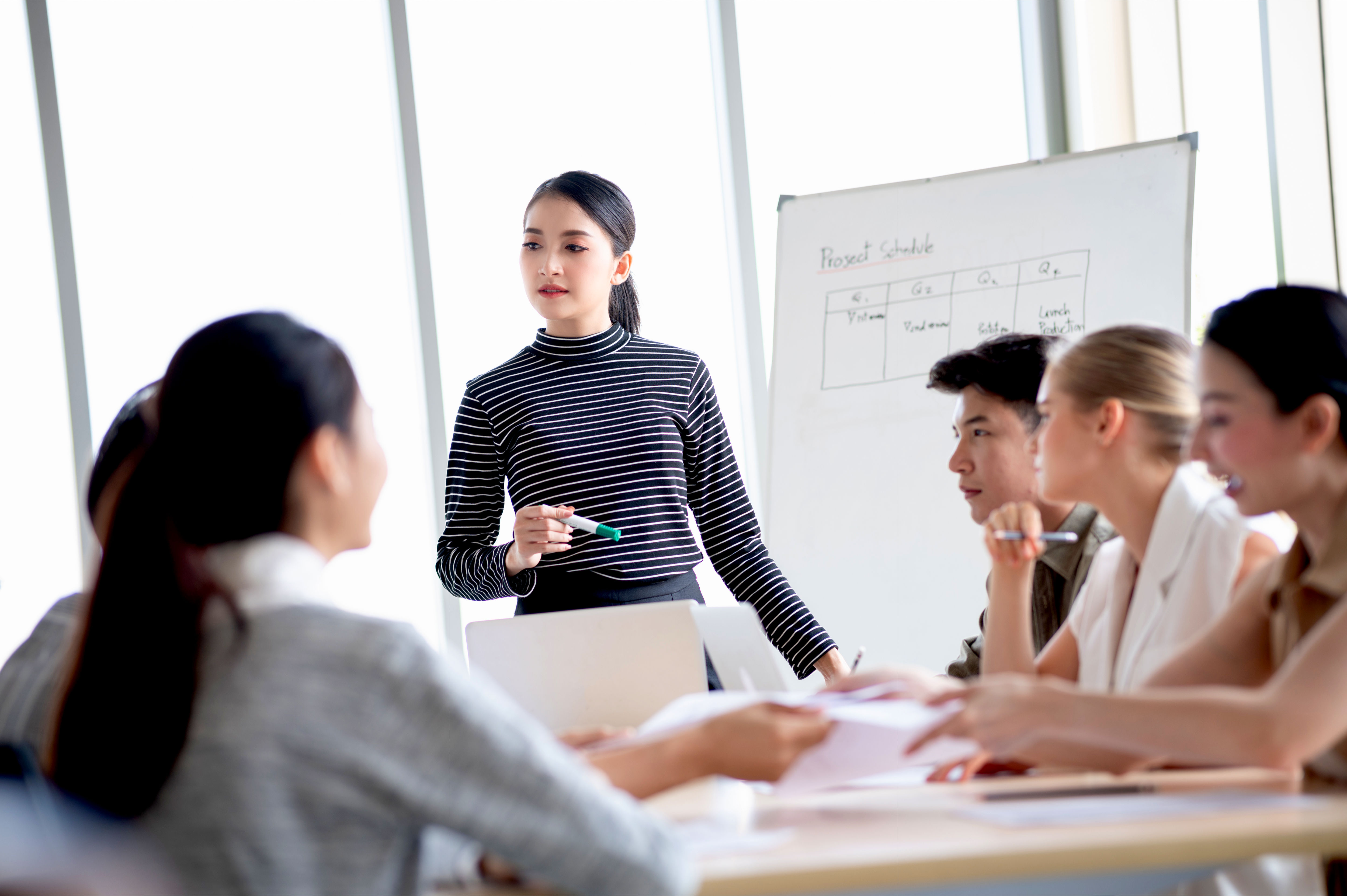 DEI Assessment / Unconscious Bias / Female Leadership programs
DEI for board members, management and HR / Child-care Leave Return Program / DEI for Male Employees / Woman Empowerment Program / Self-esteem Program / Career Counseling / Mindfulness
Minority literacy for those including LGBTQIA+ / gender gap literacy
*From our rich contents, we will customize the program according to your company's needs regardless of the audience's role in the organization (Executives, personnel, management, staffs).
DEI Assessment
Understanding the company's DEI level and the situation regarding women's participation in the workplace.
Employee surveys
Understanding each employees' true feelings regarding aspects such as an employee's sense of belonging, security and fulfillment within the workplace.
Listening to those in personnel and management
Check the company's challenges they face.
Customizing the program
Understanding the underlying issues by data analysis and setting goals to make optimal proposals.
Setting a goal towards DEI
Formulate an action plan to update into "HAPPY + PRODUCTIVE + CREATIVE" organization.
Common issues we hear from companies
※If you have such concerns and issues, please feel free to contact us.
☑︎ Would like to deepen the companies understanding for promoting diversity.
☑︎ Would like female employees to play a more active role.
☑︎ Are trying to make efforts for women's active participation but feeling like the efforts are superficial and active results cannot be seen.
☑︎The understanding of the necessity of diversity within the company is low that the significance of promoting it does not resonate with managers and employees alike.
☑︎Are working on diversity& Inclusion, but its significance has not resonated in the workplace that change is yet to be seen.
☑︎ Wanting to increase employee motivation and engagement to improve productivity and profitability.
☑︎ Wanting to increase creativity in a diverse environment.
[Target]
ーManagers who wish to/are striving to strengthen their company's promotion of diversity.
ーThose in charge of promoting diversity within the Human Resources department.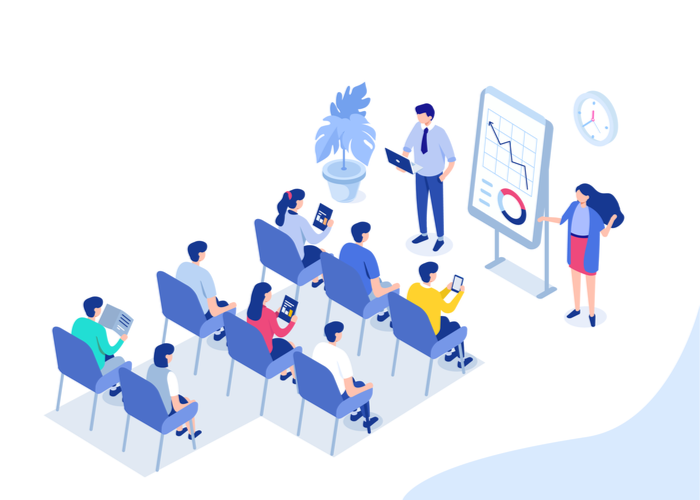 u30deu30cdu30fcu30b8u30e3u30fcu306bu306au308bu307eu3067u306fu598au5a20u3057u306au3044u3088u3046u306bu3057u3066u304du305fu304cu3001u3082u304640u6b73u624bu524d
Ms.S

u5973u6027u4e00u4ebau306eu6253u3061u5408u308fu305bu306fu767au8a00u3092u8ae6u3081u3066u3057u307eu3046
Ms. H

u300cu30deu30cdu30fcu30b8u30e3u30fcu306bu306au308bu524du306bu5b50u4f9bu3092u7523u3080u306au3093u3066u3082u3063u305fu3044u306au3044u300du3068u8a00u308fu308cu305f
Ms. E

u30cfu30fcu30c9u30efu30fcu30afu3067u751fu7406u304cu305au3063u3068u6b62u307eu3063u3066u3044u308bu3051u3069u3001u8ab0u306bu3082u6253u3061u660eu3051u3089u308cu306au3044u3002
Ms. S

u300cu6642u77edu3057u3066u3044u308bu304bu3089u8a55u4fa1u304cu4f4eu304fu3066u5f53u7136u300du3068u8a00u308fu308cu30e2u30c1u30d9u30fcu30b7u30e7u30f3u304cu4e0au304cu3089u306au3044
Ms. T